Celebrate together as a family with these fun crafts, recipes & stories from Clubhouse and Clubhouse Jr. magazines in a variety of holiday & celebration themes.
Gather 8 ounces guacamolepitalimebell peppercherry tomatoessmall pretzel sticks Go 1. Spread a thin layer of guacamole on pita.2. Carefully cut the lime in half. Squeeze
Read More »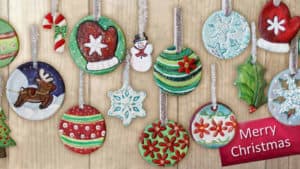 With cookie cutters and imagination, you can make incredible ornaments!
Read More »
Create a blizzard of glistening ornaments as gifts.
Read More »
Make this cute Easter craft as a family. Then leave a chick on a neighbor's doorstep to spread the hope that we have in Jesus Christ!
Read More »
Powerful dioramas that share the Easter story.
Read More »
This yummy coffee cake is perfect for Easter morning.
Read More »
Grab some chips and share this creamy, spicy dip with Dad.
Read More »
Celebrate summer with this giant fruit salad.
Read More »
Give Mom the night off by fixin' these tasty chicken tenders.
Read More »
Give Mom this card, along with a cup of coffee.
Read More »
Turn your Thanksgiving leftovers into a hearty next-day casserole.
Read More »
These gourds will add some fall fun to your family's home.
Read More »
Gather 4 tablespoons (1/2 stick) butter 10-ounce bag marshmallows 6 cups Rice Krispies cereal Oreo cookies chocolate frosting candy corn Go 1. With a parent's
Read More »